If you are a big fan of strategic games then King of Avalon is just made for you as it is the most difficult and engaging game available on the internet. In this game, King Arthur is slain by his evil nephew called Mordred and is hiding and training in the jungle to get ready for the ultimate revenge.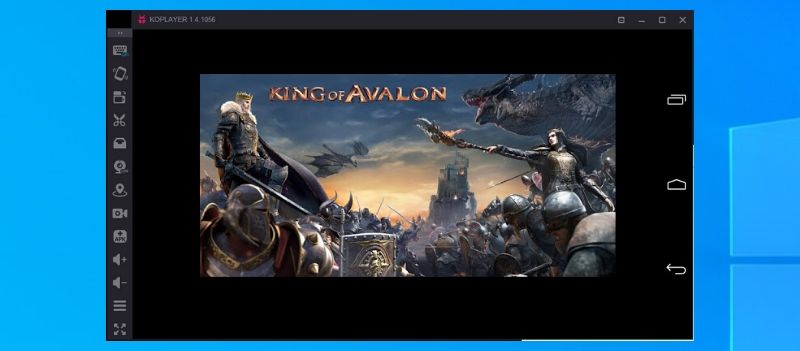 DOWNLOAD KOPLAYER FOR PC
DOWNLOAD KOPLAYER FOR MAC
This game is based on the ancient legend of King Arthur and his magical sword- The Excalibur. You need to build a city from the ruins and start building your kingdom from scratch and need to win the heart of people once again.
In this game, you have to raise your dragon, build a deadly and invincible army, and need to build a thriving city altogether to be the true king of the game. Attack and take part in multiplayer wars against players from all over the world and prove your mettle in this amazing and enthralling strategic game.
After reading these features, you'll be keen to download this awesome game on your PC, right? Well, you can get King of Avalon on your PC by using an emulator. It is the easiest way to get this game without any hassle on your PC.
How to get King of Avalon on PC using KOplayer?
To get this breathtaking game on your PC you'll need an emulator. An emulator is an app that lets you emulate Android OS on PC and give you an opportunity to download and install games on your PC without any trouble.
KOplayer, one of the best emulators available on the internet is the best app to download and install this game on your PC due to its graphical support and customizable controls. To install this game on your PC, you have to-
First of all, get KOplayer on your PC by clicking on the link given here.
Now, double-click on the APK File and install it on your PC.
Now, download the APK File of King of Avalon clicking on the link given here.
Or, you can choose adding the APK file using the option called "Drag and Drop" option available in the KOplayer.
Wait as the .exe file is getting installed on your device with the help of KOplayer.
You'll see an icon popping up on the home screen of KOplayer.
Double-click on the icon and enter the world of Warriors!
Final Words
With the help of KOplayer, you can have a never before experience of gaming and let you enjoy your game with customizable controls and awesome graphical support and slay your enemies on the crispier and bigger screen of your PC!