Clash of Clans is the ultimate strategy game that has amassed a huge following. It allows you to plan your village and build it accordingly. You are required to build enough infantries for your army and enough walls for your protection. You can also select the kind of warriors you want in your army and use them in a fight in any manner you choose. With this great tactical gameplay Clash of Clans lacks only one thing – more screen space.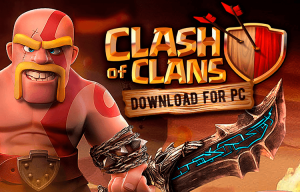 Android Emulators are tools that allow your PC to function as an Android device and run all those applications which might otherwise only work on your smartphone. It allows users to access Android Games and Applications without having an actual Android device. T
his is why it is possible to play Clash of Clans on your PC.
Koplayer is an Android emulator that allows players to enjoy the game on a larger screen such as that of their PC. This tool allows users to access the Google Play Store and download Clash of Clans.
Koplayer is easy to use and can be downloaded on your PC by following these simple steps:
Download Koplayer emulator from download button below. This is the most reliable source that will make sure that you are not duped by harmful source codes and hidden malware. This ensures that you get a safe and complete version of the tool without having to verify its authenticity.
Open the emulator and agree to the terms and conditions of using the tool without which you will not be able to proceed further. Read the offer document carefully to ensure that you are agreeing to conditions that are acceptable to you.
Choose the file location where you would like to store the source code for the tool. This could be a drive in your computer where you store files for all your programmes.
Once you start with the installation process, it will take some amount of time to finish this process and then it will ask for you to run the tool. This will allow the emulator interface to open on your PC and let you navigate through the mouse and shortcuts that can be customised to suit your functionality.
 When you run the tool, it will load the interface and then all you have to do is follow the prompts to complete the installation. Step by step guide will be displayed on the screen in the form of prompts that will guide you through the process of installation.
Open the tool and select the Google Play Store icon using your mouse. Download Clash of Clans through the Play Store by typing the name of the game in the search bar. Select the first suggestion that pops up in the results. Select the download button and wait for the game to be installed in your virtual device.
Open the game once it is installed and start playing the game like you would on your phone. Plan your village, prepare your troops without having to squint your eyes to make sure you had the right spot to build the castle.
Playing Android games has never been so much fun. You can play an amazing game like Clash of Clans through your PC screen and enjoy the game to the fullest. This is the most efficient and reliable way to enjoy games that are designed especially for Android devices. Koplayer is one of the best options out of all the Android emulators out there.