Emulators are tools that are downloaded on PCs that allow users to access different types of software or applications in a virtual environment. It recreates the environment on which Android Apps can function and make it possible to access certain tools that were meant for Android devices without actually having access to one.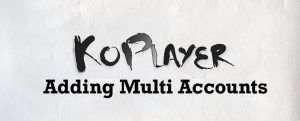 Read More – How To Play Clash of Clans on PC Using KoPlayer?
Many users who enjoy arcade and strategy games on their Android phones and tablets. The only issue with doing this is that one often has to squint very hard to spot the obstacle or tool that they want to use.
It could also mean that they need to zoom in and out and scroll too much to be able to play the game.
It only makes sense that one would rely on an emulator to access a few apps that are available on Android devices but are rather well suited for larger screens like that of your PC. This is why it is a great idea to use an emulator which can best suit all your requirements.
Koplayer is one of the best emulators that are available for users who wish to switch to other devices but continue to run the tools and games designed for their smartphones.
As far as Koplayer is concerned, it is also possible to run multiple windows simultaneously to save time and run multiple apps and tools at the same time on the computer instead of your mobile phone. With this feature, one can perform multiple functions at once saving some precious time while managing to multitask successfully.
Here is a stepwise guide to help you navigate your way through Koplayer interface and help you run multiple application simultaneously-
The first step is to download Koplayer emulator from download button listed below which is the safest way to download the source file. Make sure it is the latest version which supports multi-account access
Make sure that your emulator is turned off. Then, go to the Koplayer MultiManager and click on "Add Emulator" option. It is important to note that there are two options available to the users, one is "Add Emulator" and the other is "Clone Emulator". The first option creates an Emulator and the other one creates an emulator with all the photos, data and apps on your first emulator already installed.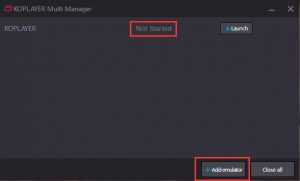 Must Read: Download KoPlayer for Windows 
Once you click on 'New Emulator' in the options provided, you can rename the emulator to make sure you can keep a track of what function each one performs.
To copy all the content of the emulator onto a new one, it is now time to select "Clone Emulator" to create an emulator which has all the selected apps and data available to the user.
You can now open the apps you wish to access through the second emulator. Enjoy playing games or using Android apps on two different windows at the same time. Note that the number of emulators you can create depends on your computer's memory.
Many games were unfortunately only designed for Android devices, and can also be enjoyed through your computer system.
Koplayer seems to be the right choice for all those who wish to access multiple Android Applications at once. This is one of the most efficient emulators that is trustworthy and easy to use.
So go ahead and download this tool today!