If you are a real fanatic of strategy games then you must have heard about the game called Lords Mobile as it is the most widely played and loved game by the users from all over the world.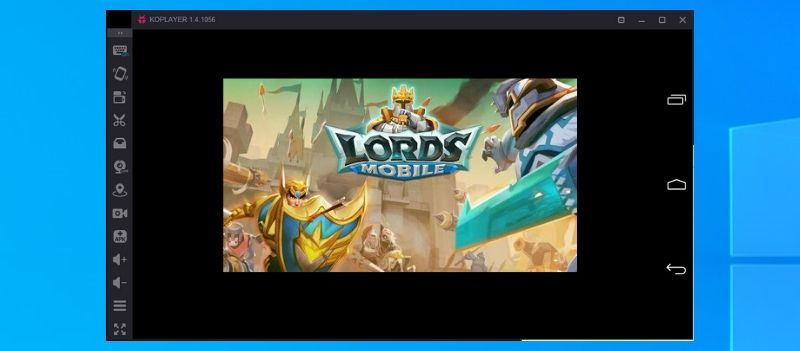 DOWNLOAD KOPLAYER FOR PC
DOWNLOAD KOPLAYER FOR MAC
In this game, you have faced a tough situation where the true emperor has fallen and your kingdom needs a noble and true king to lead them back on the top. You have to unite different kingdoms, recruit heroes from different backgrounds.
Dwarves, mermaids, and steampunk robots are at your disposal, recruit them in your army, and fight against other players to conquer and establish your realm in this magical world. With more than 330 million players from all over the world, fight against them and defeat them to rule overall.
Be a good king and build construction, update them frequently, train your troops, level your heroes, and lead your kingdom on the zenith of this magical world. With more than 4 troops and 6 different kinds of troop formations available, surprise your enemies with your wit and tactical mind.
The best way to play Lords Mobile game is to join a clan and line up with your allies in exciting modes like Guild Wars, Kingdom vs. Kingdom battles, and Wonder Wars to prove your mettle to your clan and be the hero they are yearning for a long time.
After reading these amazing features of this game, you'll be keen to download this amazing game on your PC, right?
Need not worry; all you have to do is to use an emulator to get this app on your PC without any hassle. An emulator is an app that mimics Android OS on your PC to give you an opportunity to get all the amazing Android apps and install it on your PC.
Steps to get Lords Mobile on your PC using KOplayer
KOplayer is the best emulator available on the internet as you will be able to download various apps through this simple emulator. All you need is KOplayer and you'll be able to download Lords Mobile on your PC.
To download Lords Mobile through KOplayer, you have to-
First of all, install KOplayer by clicking on the link given here.
Once installed, download the APK file of Lords Mobile app by the link provided here.
Or, add this APK File using the "Drag and Drop" option present in the KOplayer.
This will install the APK File of Lords Mobile without any hassle.
Wait for a few moments as Lords Mobile is getting installed onn your system with the help of KOplayer.
Once installed, click on the icon of this app available on the home screen of KOplayer.
Boom! You have entered the world of warriors and battles!
Final Words
With the help of KOplayer, you'll be able to play this game like never before and you'll be amazed by the graphical support KOplayer offers you. Enjoy this amazing game on the bigger and crunchier screen of your PC!