If you love the challenges in the tactical battle royale games, you will definitely love playing Survivor Royale. It is a battle royale game in which you and 99 other players are dropped on an island. The numbers of abandoned buildings and dangerous people are there on this large map.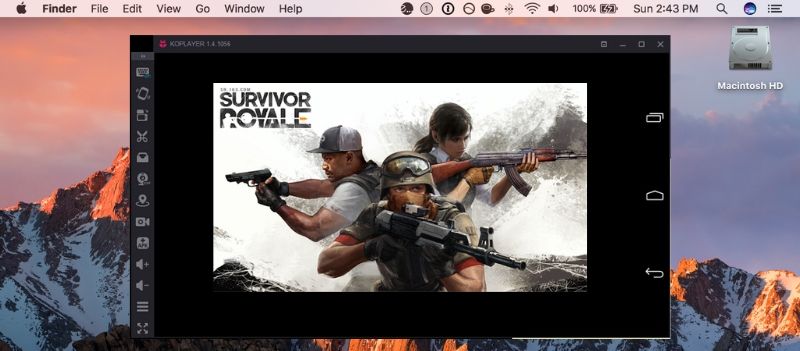 DOWNLOAD KOPLAYER FOR PC
DOWNLOAD KOPLAYER FOR MAC
Once you touch the ground, you have to search for weapons that are scattered all across the island. These weapons will help you to defend yourself from the attacks of the enemies from any side as well as you can also use these weapons to destroy your enemies. Apart from these, you have to find accessories and other items that can help you in killing the enemies.
When the players on the island begin to die, the safe zone shrinks and forces the players to battle into a tighter map than before. Moreover, in this gameplay, you have a vehicle also to drive away from your enemies. You can play Survivor Royale either as a solo or as a team. The player/team who will stand alive at the end of the game will be the winner.
If you have ever played PUBG or Fortnite, you will find this game very much similar to them. So, are you ready for gaining an awesome gameplay experience?
Playing Survivor Royale on your Mac
Of course, you have played many online games on your mobile phone, but have you ever played any game on your Mac? Many of you might be unaware of the fact that Survivor Royale can also be played on a system running Mac OS. Though this game cannot be installed on your Mac directly, you have one of the easiest ways to get this done.
You can use an android emulator, Koplayer, which enables you to install Survivor Royale on your Mac easily and that too without spending any money. It is software that emulates Android OS on Mac and you will feel as if you are playing the game on your phone.
For this, you have to follow these steps.
To download Koplayer on your Mac, you have to click the link given here.
The next step is to install this emulator.
After it is installed successfully, you need to download Survivor Royale APK from the given download link.
Or, you can choose using the drag and drop function of Koplayer to install Survivor Royale APK.
Once it is done, you will see an icon of Survivor Royale on the main screen of Koplayer.
Get this icon and click it.
That's all. Start playing this game to stand till the last.
Let's start this game with 100 players on the battlefield and only one will win.