If you have ever played any strategy game before, you will surely love this similar gameplay, Clash of Clans. Like others, in this game as well, you have to build a village, raise battles and compete with millions of players worldwide.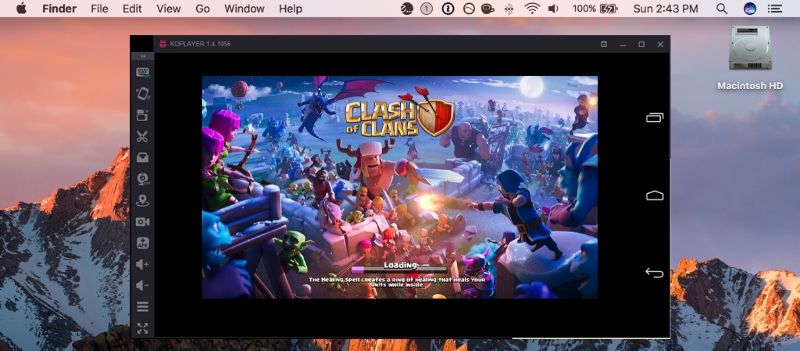 DOWNLOAD KOPLAYER FOR PC
DOWNLOAD KOPLAYER FOR MAC
Once you enter this world of clans, unique troops of other players are waiting for you to attack you anytime they want. So, you need to react fast with the fast-paced strategy and your powerful army. You will have to find the fearless and powerful members which you will recruit in your army with the aim to send them on the missions to destroy enemy camps.
The whole gameplay is somewhat divided into two stages. In one stage, you require building structures and recruiting citizens. Once you are finished with this, in the second stage of the gameplay, you will be involved in real-time strategy battles where your army will play a vital role in defeating other players.
As you play the game, you will learn about different strategies that help a lot in gaining experience and money. Along with this, you have to upgrade your army so that you answer strongly to the oncoming attacks from the enemies.
This game is quite interesting and can be played completely free.
Download Clash of Clans on your Mac
Now, you will surely be eager to know the steps of getting this amazing game clash of clans on your Mac. But, many of you might be worrying about the complex and long process of installing this game. Just go through the given steps to ease your mind as they involve a simple and easy-to-follow installation process.
All you require is one of the popular android emulators like we are using Koplayer to enable your Mac system to install and run Clash of Clans on it.
Here are the steps.
You have to start with downloading Koplayer on your Mac OS using the given link here.
Now, double-click this downloaded .exe file to start the installation of this Koplayer on your system.
Once it is done, now it's time to download Clash of Clans APK with the available link. Another method is to install Clash of
Clans APK file using the drag and drop function of Koplayer.
Once this file is downloaded, install it.
Now, you have to open the main screen of the emulator where you will find an icon of the game that you have installed.
Simply click on this icon and now you can start playing this game.
With the help of this guide, now you can easily install Clash of Clans on your system running Mac OS. So, install it today only without wasting more time and enjoy the world of Clans.