Are you the one who loves to try different strategy games? If yes, then Game of Warriors is a game just developed for you to experience something new in this genre.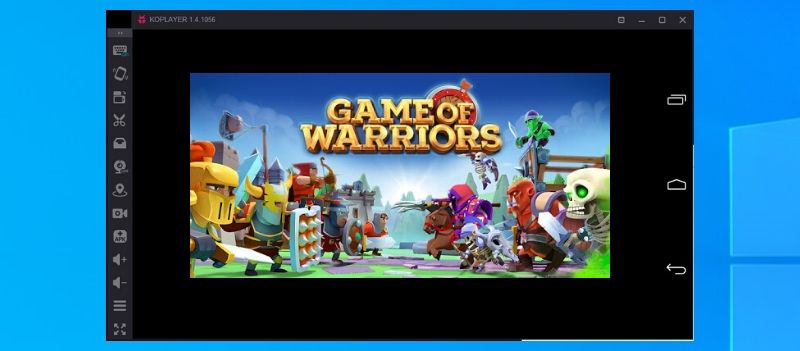 DOWNLOAD KOPLAYER FOR PC
DOWNLOAD KOPLAYER FOR MAC
It is a game in which you will play as a village chief with the aim to
defend your village from enemies and conquer the world
. In this magical world, you are allowed to upgrade your defenses to make a strong battle against the invaders and to increase the possibility of survival.
In this gameplay, you must always be ready with your horses, recruit warriors as well as create powerful weapons for battle. The target includes destroying the walls and towers of the enemies and makes them weak so that you can easily conquer them. It is the right time for revolution, war, and revenge, so don't miss any chance to attack the enemies who are trying to destroy your village.
Game of Warriors has two game modes – Horde Mode and Conquest Mode, which make this gameplay more interesting as your troops are involved in answering the attack by enemy armies and you will rise as the victorious. With each winning battle, you will be awarded coins that you can use to improve the stats of your armies attack. These coins can also be used to obtain new soldiers or you can use them for fortress defenses.
Now, are you thinking of getting this game on your PC?
You are at the right place.
Install Game of Warriors on PC
Getting Game of Warriors on Windows PC does not take your much time and also it does not involve any complex installation process. Just with the help of an android emulator, your game will be installed and ready to play on your computer within a few minutes.
As we have a huge list of android emulators out there in the market, you must choose the popular and effective emulator to install this amazing game on your PC. Here, we have chosen Koplayer as the best choice that ensures to deliver the best performance and quality of gaming on the large screen of your system.
Let's have a look at the steps.
First of all, you have to download Koplayer with the help of the link given here.
Now, you need to double-click the downloaded file to complete the installation of this emulator on your PC.
The next step is to download the Game of Warriors APK by clicking the link mentioned here.
Another option is to use the drag and drop function of Koplayer to download and install this game APK.
Once it is installed, the icon of the game will be seen on the main screen of the emulator.
So, simply click this icon and this game will get opened on your PC.
Go ahead and gain an addictive gaming experience.
So, get it today and enjoy great graphics and sound effects while conquering the world.