Can you face the challenge of conquering the whole world? If yes, here is the Rise of Kingdoms to work on this challenge and discover incredible things to be a creator of your own kingdom.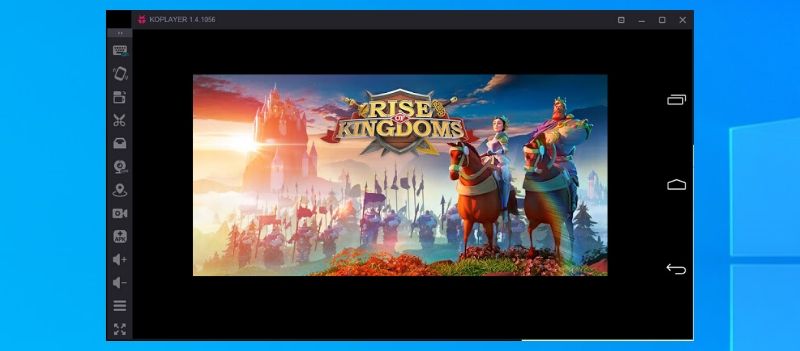 DOWNLOAD KOPLAYER FOR PC
DOWNLOAD KOPLAYER FOR MAC
The main part of the gameplay is to develop your civilization and you have to be involved in various wars with the aim to protect your civilization's survival. For this, building alliances and how to make the best use of your strategic mind help a lot in achieving your goal.
Rise of Kingdoms has a vast detailed world map, allowing you to choose from 8 civilizations and 20 heroes. All of them have their own unique troops as well as buildings that can be upgraded with the progression in the game. How you do research through several eras, join other alliances and manage the development of your cities, all leads to the glory of your civilization.
The entire gameplay involves proving your leadership skills as well as exploring a new world while helping others to be adjustable to the new world.
Now, go through the guide to get this online game on your computer.
Install Rise of Kingdoms on your PC/Mac
If you want to play Rise of Kingdoms on your computer, you will find a great gaming experience on a larger screen and also you will be able to have better controls during battles, keyboard, and mouse. The gaming performance on PC/Mac is much higher than your mobile phones.
So, why to wait for more?
Let's install Rise of Kingdoms on your PC or Mac with the help of emulators. You can choose any trusted and top-rated android emulator to get and enjoy this game on the large screen. But, here we have taken Koplayer, which has won millions of hearts due to its performance and graphics quality.
You have to follow these steps carefully and your favorite game will be ready to play within a few minutes.
Start with downloading Koplayer on your PC/Mac (whatever you have) using the given link.
Now, double-click this executable file to install the emulator.
After this is installed, open it.
The next step is to download Rise of Kingdoms APK with the help of the available download link.
Once it is done, you have to install it.
After its installation, go to the home screen of the emulator, where you will get the icon of the Rise of Kingdoms.
Now, click this icon.
That's all. Play this game and become the leader of the entire world.
So, we have successfully installed the Rise of Kingdoms on PC. Instead of wasting more time, start playing it and challenge your friends to have more fun.