If you have never tried Legend: Rising Empire, it's the right time to spend some time on this interesting strategy and town-building game. Along with this, it has several amazing features that most of the similar games usually consist of. If you are a strategy enthusiast, you will surely love to play this gameplay style.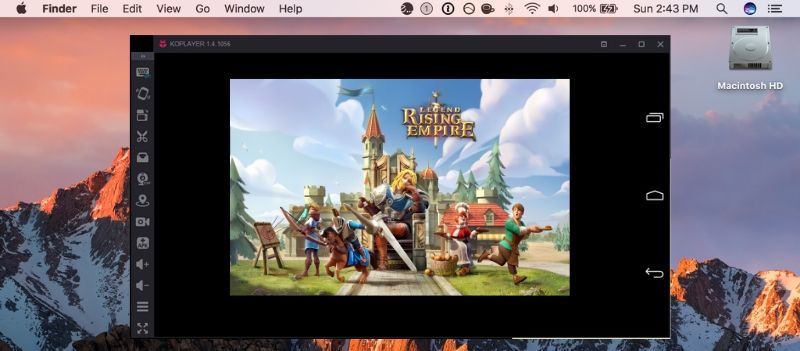 DOWNLOAD KOPLAYER FOR PC
DOWNLOAD KOPLAYER FOR MAC
When you start the game, it is pretty straightforward, where you are involved in building your village that turns gradually into a city. In addition to this, you also have to train your troops to deal with all kinds of situations i.e. attacking and defending, and you also have to manage your economy effectively so that you can grow your empire in all possible ways.
You must focus on making smart choices so that you manage everything efficiently and battle against enemies' aggressively. In this game, you can also join hands with your allies to grow your territory.
The game offers you over 40 types of buildings to build a mighty empire by balancing everything smartly so that you can protect your people from the attacks of the enemies and bandits. Conquering the strongest enemy is not easier; you have to build strong troops, organize them effectively as well as make the best use of their skills and abilities.
This game is all about capturing the economy, making smart decisions, conquering the world, and moving up to the throne.
Getting Legend: Rising Empire on Mac
Many times it happens that you are not satisfied with what you have, you look for something bigger. So, when it comes to playing Legend: Rising Empire, you can do this easily. Yes, you can get this game on the bigger screen than your mobile phone.
If you have a system with Mac OS, you just require an android emulator i.e. Koplayer to install and play this game on it without any hassle. Koplayer is one of the most effective android emulators that carry out the whole installation process smoothly and also provide better performance and gaming experience.
Fort this, simply use these steps.
You need to start with the downloading of Koplayer on your Mac system with the help of the available link.
Now, click this downloaded file to start the installation of Koplayer.
Once the installation of Koplayer completes, you have to download Legend: Rising Empire APK from the given link.
Another solution of this is to use the drag and drop function of this emulator to install the APK.
Once you are done with the installation of both the emulator and the Legend: Rising Empire, go to the main page of Koplayer.
Here, you need to click the icon of the game you have installed in the above step.
Now, be ready to start playing this game.
Join Legend: Rising Empire game today and enjoy a combination of strategy and management.