If you are the one who loves epic strategy games, you must try your gaming skills on this wonderful online game, Immortal Conquest, as well. It is a true tactical war strategy game that provides you all chances to use your intellect to build the strongest combination of more than 300 heroes, who have their own unique abilities and individualities.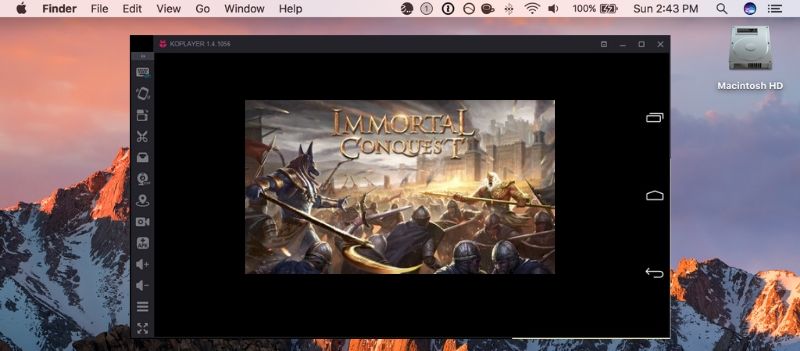 DOWNLOAD KOPLAYER FOR PC
DOWNLOAD KOPLAYER FOR MAC
This game which is created for the strategic mind involves building your armies by collecting resources for creating various military units. Also,
the game has a vast world map consisting of more than two million pieces of land
. After the winning of one alliance, the map gets refreshed and you have to again build an army.
You have to create strategies and choose them accordingly, like whether you want to use diplomacy or military to meet your goal i.e. building alliances, winning cities and building armies. Moreover, the game is not all about killing each other; it involves something which is bigger and expressive.
So, welcome to the battle world and play Immortal Conquest in order to achieve the eventual glory through world power.
Though this game is developed for Android devices, many of you might not be known with the fact that Immortal Conquest can be played on Mac OS as well. So, if you have a system running Mac OS, you can easily get this game on your system and enjoy playing this high-end strategy game on the bigger screen than your Android phone.
Want to play Immortal Conquest on Mac?
If you are thinking of how to install this game on your Mac system, these steps will help you to get this done.
But, before that, it would be good to know about the third-party software that will let this happen easily and smoothly.
Yes, it is an android emulator, such as Koplayer. It lets you install Android games on your Mac without getting any trouble, which means your Android OS will get imitated on your Mac environment and you can easily access Android apps on it.
Here are the steps.
Download Koplayer on your Mac with the help of the given link.
Now, it's time to install it by clicking the downloaded file.
Once it is done, open the Koplayer.
The next step is to download and install Immortal Conquest APK from the available link.
After its installation, go to the homepage of Koplayer.
Here, you will find the icon of the Immortal Conquest, so click it to open the game.
That's all.
So, start playing this game on your Mac to build cities and conquer the world using your strategic mind.