Have you ever played Fortnite and PUBG? If yes, there is another similar game, Knives Out, where the aim of each player is to kill their enemies and win the game.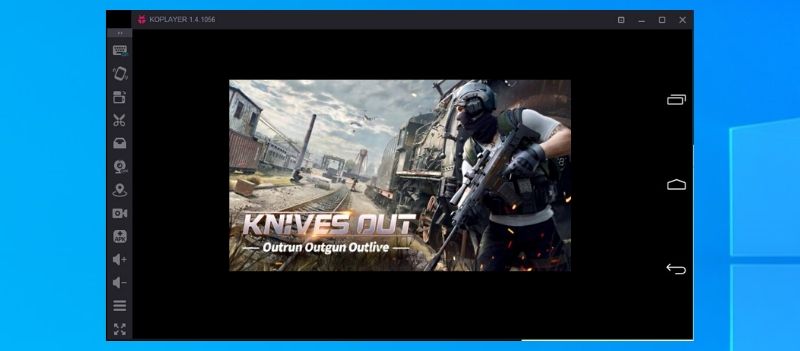 DOWNLOAD KOPLAYER FOR PC
DOWNLOAD KOPLAYER FOR MAC
It is an intense battle royale game that
consists of 100 players
, including you, that fight for their survival by creating different strategies and by using their weapons effectively. At the end of each battle, there is another battle in your way where other players are waiting to destroy you.
The gameplay offers you the greatest challenge in this world, where only one player can make his/her survival in the end. The battle starts in a 6.4 sq. km isolated area, where you and 99 players are parachuted into the battle for their survival till the end of the game.
Knives Out gameplay is not just about fighting with other players; you have to make your way through abandoned buildings, vehicles and all other places to find powerful weapons. These weapons will be your defensive system to protect yourself from enemies. Fortunately, you have tons of weapons and other items in the game that can be used based on the situation or what next step you have.
Knives Out offers many things to keep you interested as long as you are alive in the game.
Though it is a mobile-based game, you can play it on Windows PC without using any complex process.
So, do you want to use it? Continue reading.
How to Get Knives Out on Windows PC?
Knives Out can be played on your PC with the help of an Android emulator. As there are many emulators available in the market, you can use any popular and effective one to get this game on your system smoothly. One of them is Koplayer.
Here are the steps to perform the installation of Knives Out on PC.
Download Koplayer on your system using the available link.
Now, install it.
Once it is installed, you have to open the emulator.
Now, download and install Knives Out APK by clicking the link mentioned here.
After this, you will get the icon of this game on the main screen of Koplayer.
So, go to the home screen and click this icon.
Now, you can start playing this wonderful game on your PC.
Wrapping up
With the help of these steps, you can gain a better gaming experience on your system than your Android device.
So, get Knives Out on your PC right now and have endless entertainment with your friends.