If you have ever played Clash of Clans, you will find Clash Royale very much similar to it. In other words, you can say that Clash Royale is a bigger brother of Clash of Clans and can be played with just a few changes in the gameplay.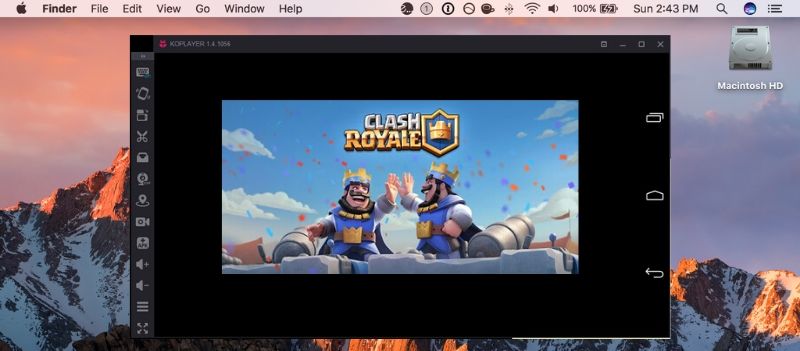 DOWNLOAD KOPLAYER FOR PC
DOWNLOAD KOPLAYER FOR MAC
This game offers you a chance to play real-time battles in
1v1 and 2v2 modes
. You have to hit the enemy King and princesses from the towers so that you can defeat them and win trophies. In this gameplay, you also have to create a clan with the aim to share cards and become a stronger player to form your own battle community.
When you earn chests, you will be able to unlock rewards, with the help of which you can collect powerful cards and even upgrade the cards which you currently have. The focus of each player is to destroy the enemy's towers and win crowns so that they can earn crown chests. You have dozens of Clash troops and defenses, which collectively make your Clash Royale family.
In short, this game is all about building your own deck, challenging other players from around the world, unlocking new cards so that you can earn chests and moreover creating a clan.
So, why to wait more? Simply get this game and enter the arena.
Getting Clash Royale on your Mac
If you are the one who always looks for the easy and simple solution to get your desired game on the large screen of your system running Mac OS, here you will be pleased to know about the best way to enjoy the better gaming experience than on your mobile phone.
You just need to get an android emulator, such as Koplayer, which makes the installation of Clash Royale on your computer much easier and smoother.
So, let's go through the steps and be ready to get this wonderful game on your Mac.
You have to start with downloading Koplayer on your Mac with the help of a link which is given here.
Now, once it is downloaded, you have to install the emulator.
After its installation, it's time to download Clash Royale APK using the available link.
Or, you can go for using the drag and drop function of the emulator to install the game APK.
When it is installed completely, you will be able to see its icon on the home screen of Koplayer.
So, go to the home screen and click the game icon.
Now, your game is ready to try your skills.
Using an android emulator is the best way to experience Clash Royale on your Mac. Moreover, you can also invite your friends to make your gameplay full of fun and excitement.