Are you getting bored with playing long and complicated games? Do you want to play a simple yet satisfying game? Then download Gacha Life and enjoy its simplicity and casual gameplay to ease your mood.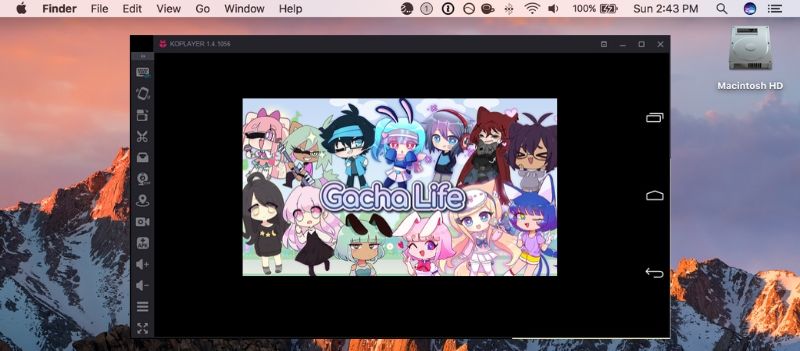 DOWNLOAD KOPLAYER FOR PC
DOWNLOAD KOPLAYER FOR MAC
In this game, you are the one who is responsible for your own storyline as you can select your favorite character from more than 20 character slots available for you. Choose from hundreds of clothes and mix and match your own fashion.
You can choose your favorite weapon, and hats as well as you can customize your own look by choosing your hairstyle, eyes, mouth, and many different things. Choose from poses and new items that were never seen before in this game.
The Studio Mode offers you an opportunity to create your own scene and enter custom descriptions for your character and choose different poses and beautiful backgrounds for your character.
In the Skit Maker, create your own stories and effortlessly combine multiple scenes to create sketches. With Life Mode, explore different areas like schools, gardens, towns and many more with your custom character.
You can even play this game in offline mode as you'll not need any internet connection to play this amazing and awesome game and it is the most loved feature of the game. So, what are you waiting for? Jump into this game, create your own character and begin your voyage now!
After reading so much about this game, you'll be keen to download Gocha Life on your Mac. It is very easy to download this game on your Mac due to an emulator. To get this game on your Mac, just go through the next section.
Guide to get Gacha Life on Mac using KOplayer
An emulator is an app that mimics Android OS on your Mac and lets you download amazing games and apps from the Android platform without any hassle.
KOplayer, one of the best emulators available on the internet, will provide you with top-notch gaming experience and smooth performance due to its system available under the hood. To download this game on your Mac, you have to-
First of all, you'll need to download KOplayer on your Mac.
Just click on the link given here to download KOplayer on your Mac and install it.
Complete the installation process and finish all required steps to start the app.
Now, download the APK File of Gacha Life on your Mac using the link given here.
Alternatively, add this file using the "Drag and Drop" option available in KOplayer to start the installation process on your Mac.
Once installed, double click on the icon popping up on the home screen of the KOplayer and enter the world of your own storylines!
Final Words
With the help of KOplayer, you'll be able to enjoy this game like never before on the bigger and crispier screen of your Mac and write your own storylines in a better and smooth way with this game!