The most loved and admired gaming series is here to kill off your time in style with Stick Fight and it is proving to be the best stick game available on the internet. He game is an online platform which means you can now challenge your friends and players from all over the world.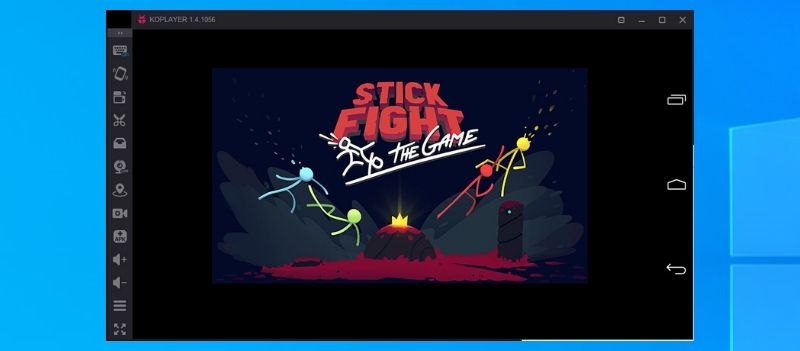 DOWNLOAD KOPLAYER FOR PC
DOWNLOAD KOPLAYER FOR MAC
In the golden age of the internet, join this hilarious brawler game and define physics with jaw-dropping stunts and breath-taking skills and battle as the iconic stick figures from the stick universe. Challenge your friends and players from all around the world and take your stick warrior to victory.
Control your stick figure to run, jump, and fight in enthralling battles and face off against each other in multiplayer mode. Now, you have many comical weapons and 100+ maps to take your frustration out and win the battle flawlessly.
This game has more than 100 amazing and wacky maps and boasts dozens of funny weapons like snake-shooting guns, a bomb that blows you, and many more hilarious weapons. There are hundreds of funny ways to die in this game and you'll feel stress-free and comical after playing this humorous game!
You can even build your own maps with the help of the level editor feature and customize your stick figures with the exclusive avatar store and color system. Relive the world of stick-figures with this funny and action-packed game!
After reading all these awesome features of this game, you'll be keen to download this game on your PC. Well, it is very easy to get Stick Fight: The Game on your PC if you choose an emulator.
An emulator is an app that lets you download amazing apps available on the play store by mimicking Android OS on your PC and let you enjoy these amazing games.
Steps to get Stick Fight: The Game on your PC using KOplayer
KOplayer, considered as the best emulator available on the internet due to its optimization and graphical support, is the best option for you to get this game on your PC. This emulator will take your gaming experience on a new level.
All you have to is to-
First of all download KOplayer on your PC using the link given here.
Now, install it on your PC by double-clicking on the downloaded file.
Now, double-click on the link given here to download the APK File of Stick Fight.
Or, add this APK File with the option called "Drag and Drop" available in the KOplayer.
Wait for a few moments as KOplayer is installing the .exe file of the game on your PC.
Once installed, double-click on the icon of Stick Fight popping on the home screen of the KOplayer.
Boom! You are now in the action-packed world of stick fighters!
Final Words
By using KOplayer, you'll be able to enjoy Stick Fight on your PC's bigger and crispier screen and take your gaming experience to a new and ultimate level!