Do you love farming but didn't get any chance to date? Are you looking for an exciting and entertaining way to show your farming skills? If yes, then welcome to the online farming world where you get a chance to run a farm and tell others how efficient you are in farming.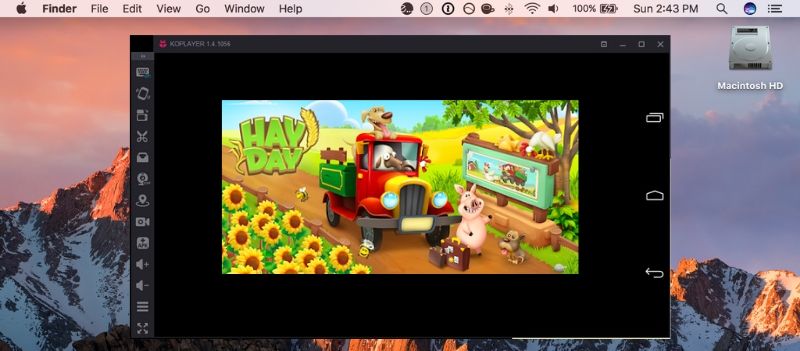 DOWNLOAD KOPLAYER FOR PC
DOWNLOAD KOPLAYER FOR MAC
Hay Day
is one of the most popular farming games in the mobile gaming world that works quite similarly to your farming in the real fields. In this gameplay, you have a farm in which you can plant different types of crops and can even harvest them at a suitable time. To make this game more interesting, it allows you to interact with your farm animals, and more to this, you can also go fishing in the lake.
You are not alone in this game as you can do trading with your friends on various social networks. Here, you are allowed to swap your crops, make changes in your farm and can even negotiate on all elements of the game. You can also involve your Facebook friends in your fields by inviting them to work on a farm for one or two seasons. It provides you numerous ways to trade with your neighbors and friends.
Other features of this game include repairing your dock, building your town and shipping your orders with truck or steamboat.
Now, are you eager to get Hay Day on your Mac? Continue reading this.
Getting Hay Day Gameplay on Mac
Playing a game on the large screen of your Mac is something that cannot be compared with anything else. You will definitely love the ultimate visuals quality and performance of the gameplay. So, to get this experience, you need to install third-party software i.e. android emulator, available for free.
Here, we have chosen Koplayer as one of the best android emulators to install Hay Day on your system running Mac OS. Simply use these steps carefully.
Firstly, you have to start with the downloading of Koplayer with the help of the listed link.
Now, it's time to install the emulator by double-clicking the .exe file.
Once the emulator is installed on your system, you have to download Hay Day APK on it. For this, clicking the given link will work great.
After the installation of Hay Day, its icon will be seen on the main interface of Koplayer.
Clicking this icon will open the game.
Now, go ahead and enjoy farming on your Mac.
With the help of this guide, you can easily install and play Hay Day on something bigger than your mobile phone. So, get it done today and spend your days on your farm with animals all around you.