If you love battle royale games and love to try your strategic skills on defeating the invaders and becoming the last survivor, you must not miss playing Grand Battle Royale: Pixel FPS game.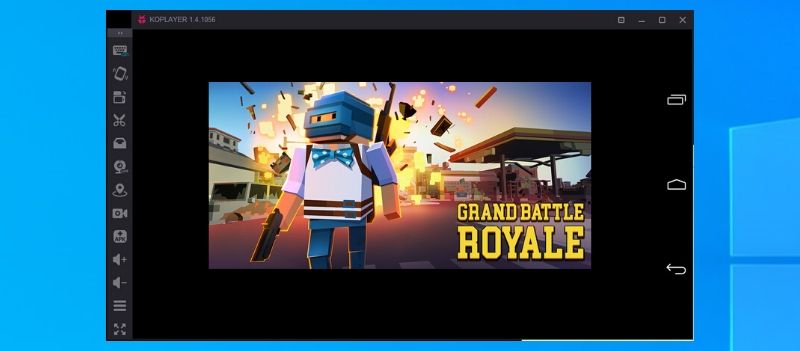 DOWNLOAD KOPLAYER FOR PC
DOWNLOAD KOPLAYER FOR MAC
Grand Battle Royale: Pixel FPS is a multiplayer game
where you are jumped out of the plane on an isolated island. The main aim is to survive the battleground and kill all the enemies. For this, you have to get the best weapons so that you can lead the battleground and become the last survivor. You have several other ways to make yourself stronger for the battle with your enemies.
In this gameplay, you have to find the best loot. Also, take the benefit of your enemy's situations as many of the players are roaming around the island without any weapon. So, get your weapons and other items quickly to destroy your opponents. Simply get your weapon and start shooting your target.
Also, don't forget the importance of a safe zone, so make sure to stay inside it and eliminate other players from the battleground. The game has blocky characters where your chosen character will play the survival gun games against the opponents from different corners of the world. Upgrading your weapons and armors helps in making your character more powerful against other players.
It consists of different game modes, containing the same aim of killing the opponents and becoming the last man surviving in the game.
Playing Grand Battle Royale: Pixel FPS on PC
Let's move further from the touch controls to the more amazing control system that involves a keyboard and mouse. It is none other than your computer.
Yes, you can get this game on your PC with the help of Koplayer, an Android emulator. Though there are numerous android emulators, it is required to always choose the one with better performance and quality graphics. This emulator lets you install and play this game effortlessly on your system.
You just have to use these steps and your game will be ready to play within a short time.
Download the emulator using the given link.
In the next step, you have to double click the .exe file to install Koplayer.
Once it is installed completely, download Grand Battle Royale: Pixel FPS APK file from this link.
Now, you require installing the game.
After its installation, simply go to the main screen of the emulator to find the icon of the game.
Click this icon and the game is ready to play.
Go ahead and grab the weapon to kill the opponents.
Just get this game right now on your PC and become the king of the battlefield. Enter this amazing world! Best of luck!