In a short amount of time, Yolo has garnered a huge fan-following due to its awesome and unique idea of sharing answers and asking questions. You can ask a question anonymously and answer these questions secretly too.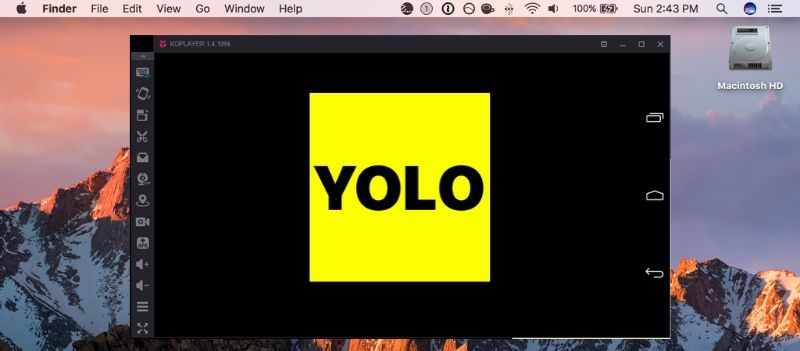 DOWNLOAD KOPLAYER FOR PC
DOWNLOAD KOPLAYER FOR MAC
Yolo
offers you an opportunity to tell your thoughts secretly and you can also see the answers about your questions and know how people think of you. This app helps you to know your friends better.
Basically, Yolo is a social communication app that gives you a chance to ask a question on your Snapchat story anonymously. After that, your Snapchat followers will give you an answer and share their opinions on that matter.
Some features of this app are-
Yolo allows you to insert a question banner and your followers will answer that question or want to share or tell something to you. You can also answer them back and it is like a question-answer loop and a great way to start a conversation with anyone.
The most intriguing thing about Yolo is that the identity of the Snapchat user who is asking the questions remains secret.
Yolo is great for people who can't confess their feelings to someone they like as you can ask anything without showing your identity. People can express their feelings without any worry, anxiety, nervousness, and embarrassment with the help of Yolo.
After reading these features, you'll be wondering how to get YOLO on your Mac, right? It is indeed very easy to get this app with the help of an emulator as it will benefit you with awesome graphical support.
Guide to Install YOLO on Mac using KOplayer
There are many emulators available on the internet and to pick any one of them can be a very tough task. To make it easy, it is recommended to opt for KOplayer as it is considered as the best of the rest due to its service and features.
To install YOLO using KOplayer, just follow these instructions-
Download and install KOplayer on your Mac by using the link given here.
Now, it's time to download the APK file of YOLO by using the link given here.
Click on the link and wait for the downloading process to end. Once, it is finished, it is time to install it on your Mac using KOplayer.
Alternatively, use the "Drag and Drop" option available in the KOplayer and drop the APK file of YOLO there.
Wait for a few moments as KOplayer is finishing the installation process on your Mac.
Once installed, click on the icon appearing on the home screen of KOplayer and enjoy this app.
Conclusion
Using YOLO through KOplayer will surely boost up its already impressive performance and give you the best experience of using this app!!