If you love all action MOBA games then Heroes Arena is the game just made for you. It is considered as one of the best action games available on the internet due to its lag-free and smooth gameplay. This game is quite engaging and enthralling, to say the least.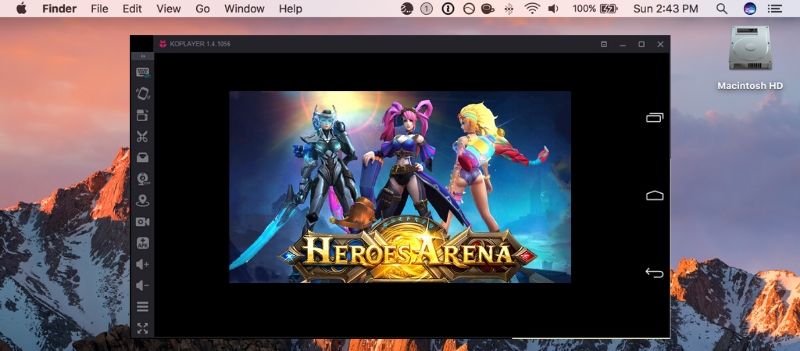 DOWNLOAD KOPLAYER FOR PC
DOWNLOAD KOPLAYER FOR MAC
The graphics and sound will make you feel like you are in the battle arena and fighting your battles alongside some of the greatest and legendary characters. The game offers lightning-quick matchmaking as you don't have to spend time waiting in the lobby for matchmaking.
This game has more than 20 beautifully designed heroes available for you in the game and has epic and unique ability awesome battle animation. You can choose to be a warrior, an assassin, a mage or a marksman and tank.
With various game modes like 1v1, 3v3, and 5v5; you can fight and prove your skills in this game by engaging in wars and fighting against players from all over the world. The most important part of this game is an alliance as you need to fight with the team in order to survive in the multiplayer game.
After reading all the features of this game, you'll be keen to download this game on your Mac, right? Well, getting Heroes Arena game on your Mac is quite easy as you have to use an emulator to get this game.
How to get Heroes Arena on your Mac using KOplayer?
To get this game you'll need an emulator on your Mac. An emulator is an app that emulates your phone's OS on your PC and lets you download the amazing and awesome games available on the Play store.
KOplayer, one of the best emulators available on the internet, is the best tool to get this game on your Mac without any hassle and trouble. To get this game on your Mac, you have to-
Download KOplayer on your Mac with the help of the link given here.
Now, install it on your device and wait for a few moments as it is getting installed on your Mac.
Now, it is time to install the APK File of Heroes Arena on your device.
Just click on the link given here and the file will be downloaded on your device.
Or, you can add the APK File using the option called "Drag and Drop" in KOplayer.
Once the installation process is completed, you'll see an icon popping up on the home screen of KOplayer.
Double-click on the icon and enter the world of action and slay your enemies!
Final Words
With the help of KOplayer, you can enjoy the game like never before and it will surely take your gaming experience on another level with its graphical support. Get this game on Mac and exterminate your enemies!